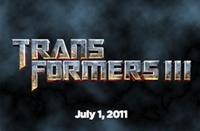 This is about the film Transformers 3, coming out July 1, 2011. It is going to be the last of the Transformers film series.
Confirmed Characters
Humans
Shia Labeouf as Sam Witwicky
Rosie Huntington-Whiteley as Carly (Megan Fox was fired.)
Ramon Rodriguez as Leo Spitz
Josh Duhamel as Major William Lennox
Tyrese Gibson as Tech Sergeant Robert Epps
Kevin Dunn as Ron Witwicky
Julie White as Judy Witwicky
John Turturro as Seymour Simmons
John Malkovich as Sam's Boss
Frances McDormand as The US Government's National Intelligence Director
Unamed Human roles
Kym Whitley
Ken Jeong
Robert Paul Taylor
Alan Tudyk
Patrick Dempsey
Tony Todd
Transformers
Autobots
Peter Cullen as Optimus Prime (Has trailer)
Mark Ryan as Bumblebee (New Vehicle)
Robert Foxworth as Ratchet (New Color)
Jess Harnell as Ironhide
James Avory as Silverbolt
Andre Sogliuzzo as Sideswipe (Now a convertable)
 ???? as Jolt
Tom Kenny as Skids (New Upgrade)
Tom Kenny as Wheelie
Reno Wilson as Mudflap (New Upgrade)
Unamed Red Ferrari 438 Italia
Unamed Blue Mercedes-Benz E550
Unamed #88 Armored Racecar
Unamed #48 Armored Racecar
Unamed #42 Armored Racecar
Unamed Fire Truck
Decepticons
???? as Shockwave
Hugo Weaving as Megatron
Charlie Adler as Starscream
Frank Welker as Soundwave
Jess Harnell as Barricade (not confirmed)
John DiCrosti as Scalpel (not confirmed)
Unamed Black Dodge Charger SRT-8
Unamed Dark-grey Chevy Suburban
Unamed Armored truck
Two robot assassins are said to murder humans in a town. Also, in one scene, a giant robot or a combiner will tip over a building that Sam and company are in.
Filming Areas
Los Angeles, California
Chicago, Illinois
Washington DC
Texas
Kennedy Space Center, Florida
Gary, Indiana
Africa
Moscow, Russia
China
Gallery
Community content is available under
CC-BY-SA
unless otherwise noted.